Many people report some pretty major bodily changes when they switch to a plant based diet. Some take to it more readily than others. One thing you will almost certainly notice is a change in your toileting habits! But why do vegans go to the toilet more? Is it more healthy?
Why Do Vegans Go To The Toilet More?
Because most people on a plant based diet consume more fibre than meat eaters. Fibre gets the digestion working properly and keeps everything moving as it should. Most nutritionists recommend plenty of dietary fibre on a daily basis so it's a win for vegans …
There have been many studies around the human digestive system. It's pretty important after all. In fact many scientists consider the stomach to be like a second brain!
Called the 'enteric nervous system' (ENS), it's been determined there are around 100 million neurons embedded within the walls of our alimentary canal. That's more than we have in our spinal cord! [1].
There is a two-way communication between the gut and the brain! Maybe this is why we say we have a 'gut feeling' about something.
The efficiency of your gastrointestinal tract determines how well you convert the food you eat into the energy and nourishment your body needs to survive and thrive.
The ENS plays a key role in the entire process.
But back to frequency …
Most of the 'medical' sites like Healthline and Web MD cite the "3 and 3" rule. That is to say, a normal frequency of bowel movement is anywhere from 3 per day to 3 per week.
Personally, I think I'd be feeling pretty uncomfortable down there if I was only going to the toilet once every couple of days for big jobs!
Is It Normal To Poop a Lot On a Plant-Based Diet?
The simple answer is yes. Plant based diets tend to include much more dietary fibre which is essential to keep things moving. This is a well known and proven fact.
The flesh of an animal, on the other hand, contains exactly zero fibre so as a general rule, meat eaters experience a longer bowel transit time.
There are exceptions of course.
If your plant based diet consists mainly of highly processed foods and/or ultra processed food then you may have more problems with passing your stool. Although having said that, you should still be in a better place than someone who's chomping down the meat every day.
… and as for those poor deluded people on the 'carnivore diet', well I'm not a religious man but God help 'em!
Most sensible vegans who focus on eating mainly fresh fruit and vegetables should have no worries when it comes to frequency of bowel movements.
In fact it's perfectly normal to be visiting the number two's transit station three times a day. Sometimes I'm even more frequent than that!
What can I say? We eat a lot of veg!
How Long Does It Take For Your Gut To Adjust To A Plant-Based Diet?
Most people respond pretty quickly to the switch over from meat eater or vegetarian to plant based. The human body is amazingly adaptable.
You should see some changes within days and by the time you're a month into it, everything should be running smoothly. Firing on all four cylinders!
( evolutionary outdated saying! )
The increased dietary fibre will get to work quickly as your body breathes a sigh of relief. In fact many new vegans go through a bit of a detox as the body clears itself out from the years of attempting to digest animal protein.
You can learn to listen to your body. Everything just feels like it's all working properly again!
Do Vegans Fart More Than Meat Eaters?
I'm a big kid at heart and it always makes me snigger slightly when this search comes up on Google! (other search engines are available).
So much so that I even devoted a whole article to the subject. It'd be rude not to mention that here 🙂
If you'd enjoy a little more light-hearted 7 minutes then why not give it a read?
But if you don't have time for that then the answer to the question is yes, vegans do tend to chuff more regularly than meat eaters!
It's a normal side effect of consuming a fresh fruit and veg based diet.
… but on the plus side, meat eaters farts smell more rancid than a vegan's offerings to the world
Pros and cons!
The Best Vegan Probiotic For Gut Health
Back to a slightly more serious tone, one thing vegans and those on plant based diets should be aware of is gut flora. Sounds a bit gross but it's important.
We have billions of good bacteria in our gut which are integral to the overall health of the digestive system. Fermented foods like yogurt contain these bacteria.
So some vegans may need to supplement with a probiotic due to lower levels consumed in the diet. If you feel something's not right with your bowel movements then give them a try. They will often help and will do you no harm if taken at the recommended dosage.
There are lots of really good vegan probiotics on the market now but this one from Future Kind is our favourite and we take it sporadically over the month. No more than once a week though.
Although you can take a dose every day if you like.
Better Out Than In …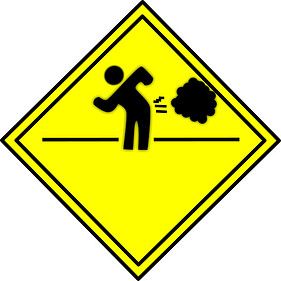 As my Mother always used to say following a slap up Sunday roast as we sat around the telly slowly digesting, with various gases emanating from various orifices.
I'm sure we can all agree, it is better out than in.
Those were the days when I used to eat quite a bit of meat. But we also ate a lot of high quality, home-grown vegetables from our garden. There was always more veg than meat on the plate, if my memory serves me correctly.
Probably went a long way to giving me the strength and health I acquired in those all-important early years. Then I went vegetarian for 20 years before making the switch to vegan.
I can honestly say that since going vegan my digestion has never felt better. I used to have a few issues, (nothing major) when vegetarian and the meat eating was so long ago now that I really don't remember.
But I can highly recommend a whole-foods, plant based diet to keep your bowels in good order.
Regular as clockwork!
I hope you enjoyed this quick read and that it's helped answer your question. If it has then please share with someone you think will benefit. Spread the love 🙂 If you'd like to leave a thought below, you're welcome …
Thanks for reading!
Rohan.
---
[1] SCIENTIFIC AMERICAN, a Division of Springer Nature America, Inc. Date: Feb 12, 2010. Retrieved Nov 29, 2021. Adam Hadhazy. Think Twice: How the Gut's "Second Brain" Influences Mood and Well-Being.
https://www.scientificamerican.com/article/gut-second-brain/