Grubby is a 100% vegan meal kit delivery service based in London, not far from Hackney City Farm. They have grown rapidly since inception in 2019, receiving some rave reviews on Trustpilot and Google. We thought we'd give it a go so here's our very own Grubby vegan meal kits review …
Grubby Vegan Meal Kits Reviews
Our first Grubby!
(get 50% off your first box here)
Very excited to receive our Grubby meal kit in the post today. It arrived in good condition even though the delivery driver had the box upended.
I immediately inspected all the ingredients and as you can see in the photos below, the veg looks pretty fresh and the quality is generally very good.
We have had to revise our overall opinion of this vegan meal kit service though because a few short months after enjoying our initial experience, the Grubby offering is not what it was.
Maybe with the cost of everything going up, Grubby have been hit too but the value is just not there any more …
[Update]: May 2023 … Bit Disappointed!
We had always promised ourselves to return to Grubby after the introductory offer we signed up for expired back in late Summer 2022. So recently, we thought we'd get another box to see how the offering is doing.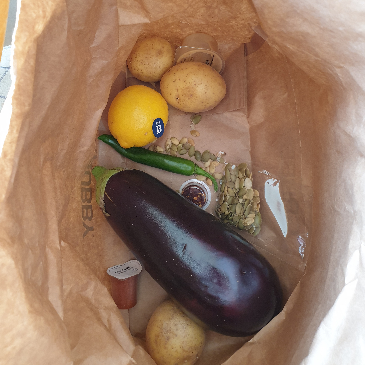 Unfortunately, things seem to have gone somewhat downhill.
Firstly, you get less food now. I don't know if it's a Brexit benefit or what but the 3 recipe box is now a 2 recipe box and for 30 quid, the amount of food you get makes it pretty poor value for money.
We felt a bit ripped off.
The food is still very tasty although the quality of the ingredients does seem to have dropped a little bit too.
But yeah … basically less food for more money.
Secondly, the portion sizes also seem to have been reduced. When we first tried Grubby there was easily enough food to feed 3 of us with a bit left over for the next day. But this time the portions we ended up with were quite small and there was none left over!
So not only do you get one less recipe but the amount of food per recipe has also reduced. Really quite disappointing. We'll get some more photos up soon.
Thirdly, we became a little frustrated with the website in that there seems to be no way to track your referrals. We had sent a couple of people to the site via our personal link but they never showed up as referrals and we didn't receive any credit for that.
So we'll leave the original review intact below but bear in mind it is now a little bit out of date and we have had to downgrade our Grubby vegan meal kit review to a 3 out of 5 simply due to the value for money having taken quite a dive.
---
Original Review …
---
A Vegan Version Of HelloFresh?
Having briefly worked for HelloFresh, the similarities were immediately obvious. Individually packaged items, right down to the small plastic pots of herbs and spices.
I know the idea is to minimise food waste but I can't help being slightly put off by the plastic waste! Although …
This is something Grubby says they're working on and the herb/spice ecopods are fully recyclable and biodegradable, apparently. So far so good.
The Main Event: Grubby's Vegan Recipes
We had a curry the night before so decided to go for the other offering in our box …
Now sitting here with a nice full belly after devouring recipe # 75 – Shepherd's pie with a parsnip and butterbean mash topping, served with green beans. Yum!
The recipe was easy to follow although we did notice a small error in the instructions. It stated to preheat your oven to 200 degrees C but then later on we're instructed to place the pie under the grill for 5 minutes – no mention of the oven.
Anyway, it's always best to fully read through the recipe first and common sense prevailed.
We did use the oven to heat the pie up because we left a few hours between cooking the meal and eating it … what can I say? Busy lives.
We also added a little vegan cheese on top before heating up. I think my wife at least doubled up on the garlic too … no vampires round here tonight 🙂
(get 50% off your first box here)
The dish was really rather tasty and even though we thought the portion sizes might be a little on the small side, it's so filling that you really don't need huge servings.
The chestnut mushrooms provide a nice nutty flavour and with the creamy brown lentils, tamari and Henderson's relish offset with the subtle mash we were pleasantly surprised with our first Grubby!
I would say one or two of the green beans were a little bit over the top but still very tasty and not stringy at all. Perfectly edible and certainly not a deal breaker.
We had enough food for the three of us so it works out at £3.25 per person since we got a 20% discount on the box for our first order.
This recipe knocks the ratings out of the park … we're giving it a whopping 51 out of 60, below! The Spotify playlists are a nice little touch too but we're not rating the song choices 😉
Taste: 8/10
Freshness: 8/10
Healthy: 10/10
Difficulty: very easy (9/10)
Eco-friendly: 9/10
Value for money: 7/10
100% vegan 🙂
… 24 short hours later … on to recipe # 105:
The Vegetable Pasanda Curry
Wow! Did we save the best 'till last. This is a truly scrumptious green bean and cauliflower, coconut based dish with a perfectly balanced spice profile!
I think that's one of the great things about these recipe boxes in general. You get to use spices, herbs and flavours which you might not ordinarily keep in the larder.
It makes for a distinctive tasting meal that stands out above the usual routine dishes one might settle into, when cooking through the week for the family.
And my family absolutely devoured the pasanda curry – this one's a winner, Grubby!
The cauliflower gently explodes in the mouth, bursting with spicy flavour and the green beans give you a satisfying crunch. The delicate, aromatic coconut sauce finishes off nicely on the tongue, leaving you wanting more 🙂
Compliments to the chef indeed … oh, that was me!
(get 50% off your first box here)
Anyway, it's an enthusiastic thumbs up all round from this dinner table and I am currently imagining how a cold IPA would perfectly accompany this stupendous curry … but it's a school night 😉
On to the ratings! It's going to score well … and it's a huge 56 out of 60!
Taste: 10/10
Freshness: 9/10
Healthy: 10/10
Difficulty: very easy (9/10)
Eco-friendly: 9/10
Value for money: 9/10
100% vegan: priceless 🙂
Grubby: (Was) An Impressive Vegan Meal Kit Offering
Overall we were very impressed with Grubby originally but do check out the 2023 update above because we're less impressed now. Yes, we didn't pay full price for our introductory box but we will definitely be ordering again.
Across our two chosen recipes, we've rated the overall experience a massive 107 out of 120 … or you could say 89% positive vibes!
Add in the fact it's all 100% vegan and Grubby work with 1morechild.org to feed those in need. It pushes the score to well over 90% in my book!
Major plus points are the zero food waste, convenience and ease with which you can create a delicious meal. I mean, we were definitely eating restaurant quality food tonight … for £3.25 a head.
… and it took less than 40 minutes to prepare!
You really can't go wrong.
The only real downside I can think of is, at full price, it is maybe a little expensive for regular use but as a treat once or twice a month, absolutely perfect.
For a limited time you can get 50% off your first box by using this link and 30% off your first month. So to try it out at half price is very affordable.
I think you'll be pleasantly surprised!
Thank you Grubby! We love it 🙂
… in fact, we loved it so much we decided to let the algo do its work and select us a second week of vegan recipes!
Week #2: Miso Aubergine, Sticky Coconut Rice, Lime & Chilli Avocado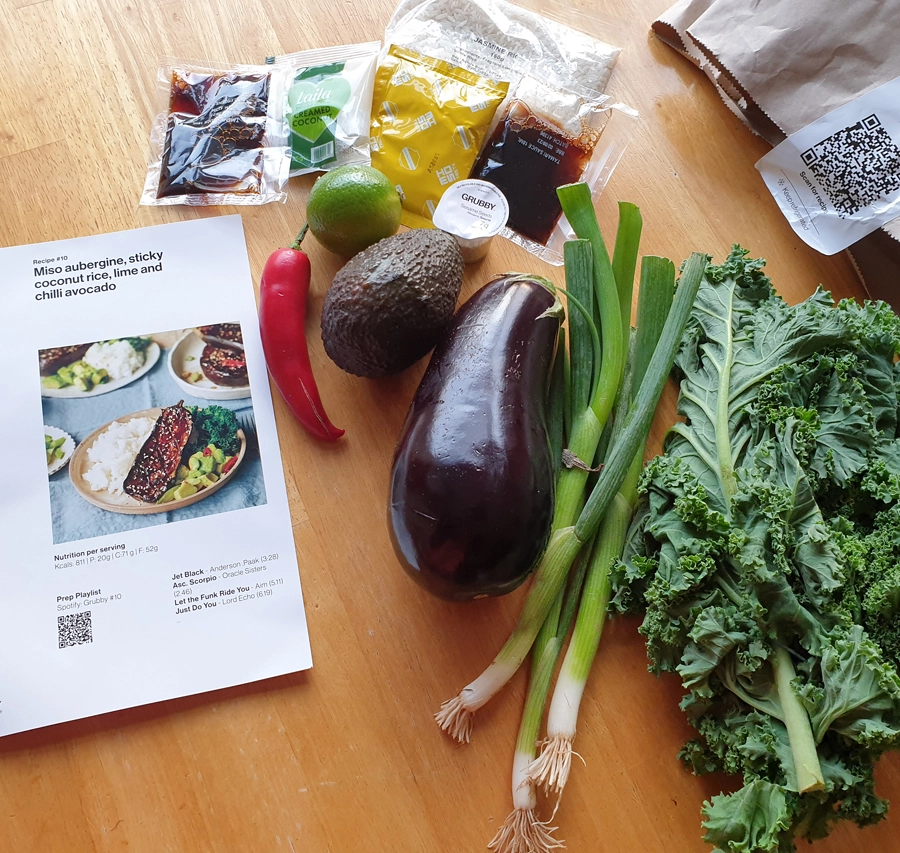 It's Monday evening. Had a bit of a naff day at work and we're both tired! Let's just say enthusiasm for donning the chef's hat is not running all that high 🙂
Our box arrived after 6pm and pretty much exactly at the very outside of the delivery window we received via the text message! Logistics software is pretty amazing!
But I digress …
The ingredients arrived nice and fresh and I wanted to use them the same day to enjoy the full flavour benefit! So I overcame my lethargy and got cooking.
Not sure what I was worried about because this simple little recipe took just over the 30 minutes stated. It's basically assembling the various ingredients, along with popping the aubergine in the oven and steaming the kale. Dead easy!
(get 50% off your first box here)
… and Grubby have excelled themselves again!
The flavour profile of this deliciously simple meal is truly restaurant quality. The sharp tang of the lime over avocado, spring onion and chilli against the delicate coconut infused rice is wonderful.
Then the salty miso baked aubergine melts in the mouth offsetting the rest of the dish in a perfect symbiosis! The steamed kale resets your palette, ready for another mouthful of pure yumminess 🙂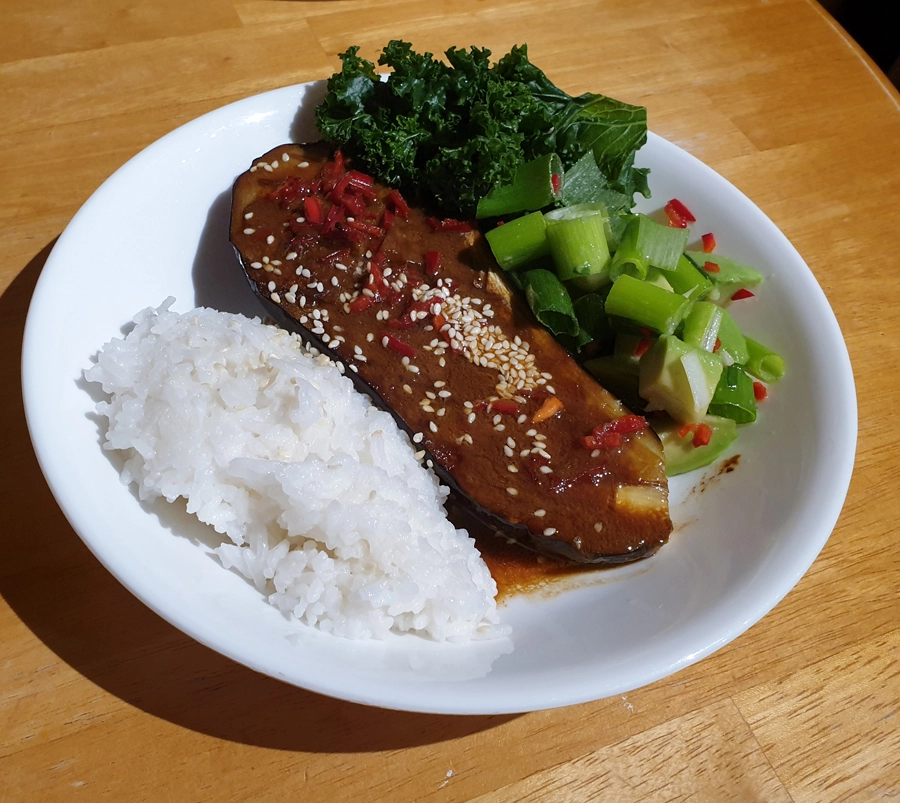 My wife and I were speechless. Quick, easy and bursting with fresh flavour. This is a real winner and we both commented again on how nice it is to enjoy some different flavours than our usual weekly fare would offer.
The ratings are top flight again!
Taste: 10/10
Freshness: 10/10
Healthy: 10/10
Difficulty: very easy (9/10)
Eco-friendly: 9/10
Value for money: 8/10
100% vegan: of course!
I honestly have nothing negative to say about this dish. We're very much looking forward to the next recipe this week!
… and last but certainly not least this week is the:
Butternut, Pepper & Pinto Bean Quesadillas With Avocado Salsa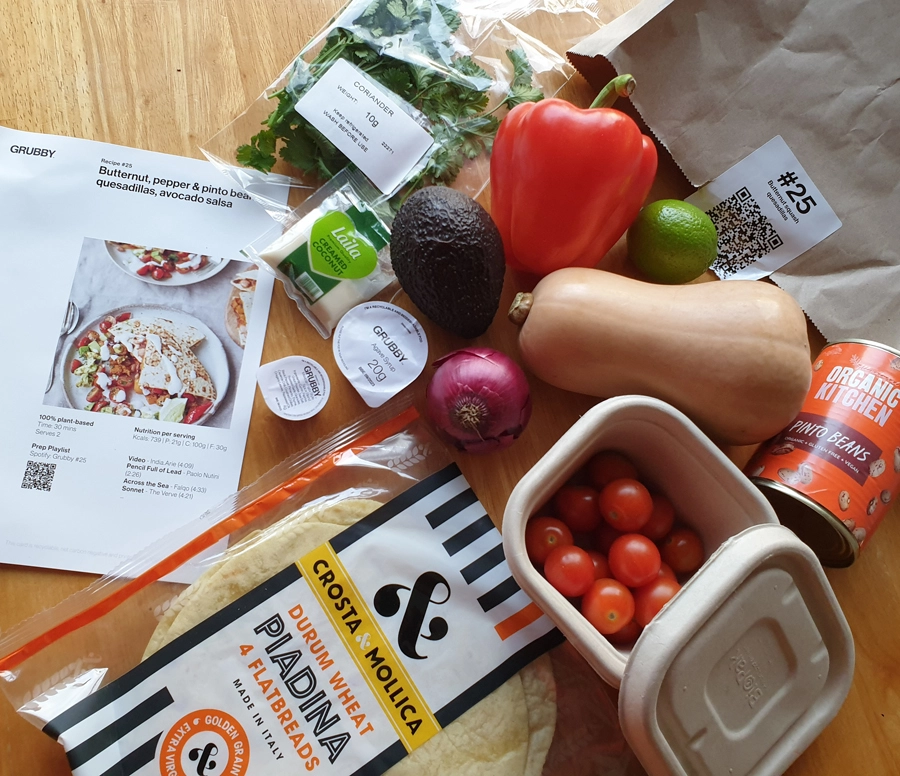 We left it a day and cooked up our last meal … wow!
Oddly, the recipe seemed a tiny bit harder to follow tonight but that might be because I'd had a beer or three … ehem!
Anyway, I'm not going to go all fluffy, well not too much!
The dish was absolutely delicious! It's the sort of meal we prepare quite often but made slightly differently. The sweetness of roasted butternut squash and fried red onion against the tangy avocado salsa (thanks to the lime) is a delight.
(get 50% off your first box here)
I'll be completely honest here. I messed up the coconut sauce (too wet) so ended up serving with a plant based, plain yogurt and we also threw on a couple of jalapenos for that extra bite!
I did use quite a bit more Mexican spice mix than was provided too (we've always got some), just because I know my family likes it spicy 🙂
But overall, this dish is a really tasty offering from Grubby and it's inspired us to think slightly differently about our regular 'Mexican night'!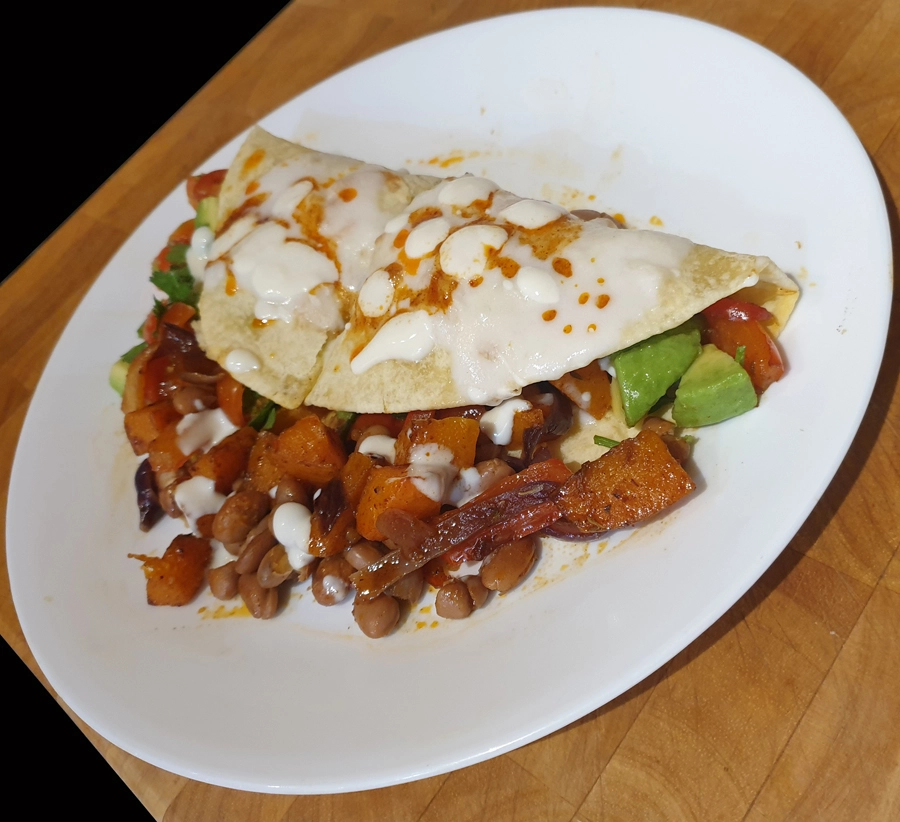 Here come the ratings!
Taste: 9/10
Freshness: 10/10
Healthy: 10/10
Difficulty: easy (8/10)
Eco-friendly: 9/10
Value for money: 8/10
100% vegan: (should probably stop mentioning this 🙂 )
We've tried 4 recipes now and they're all wonderful. Top marks Grubby!
Week #3: Mexican Black Bean Burgers, Carrot Slaw, Avocado & Fries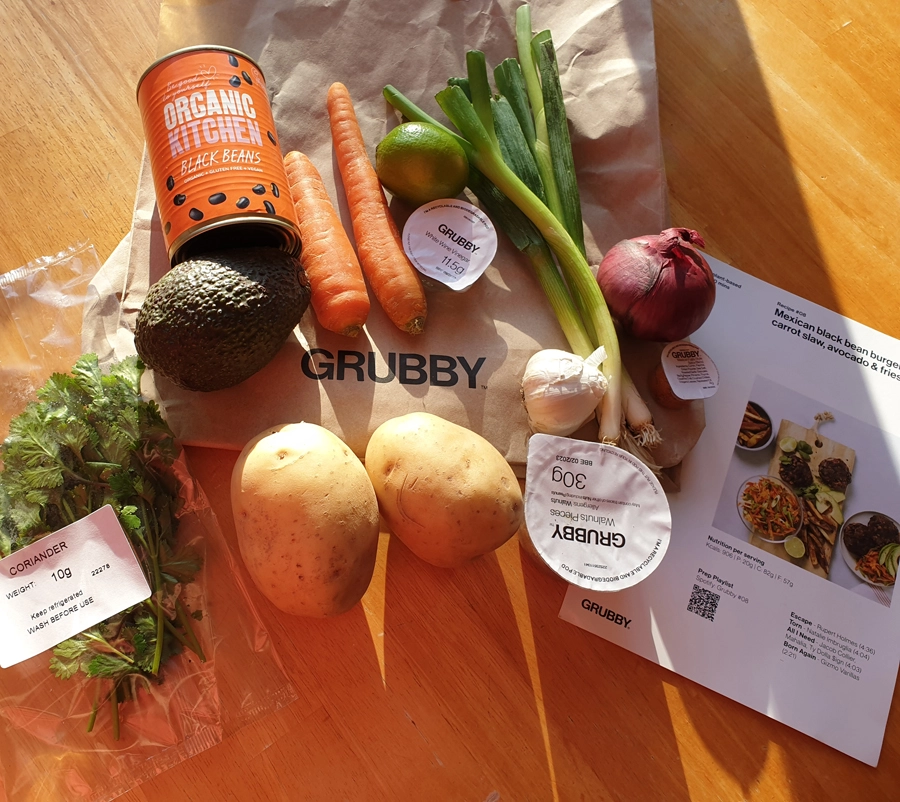 Yay! It's Monday night and our Grubby arrived in tip top condition again 🙂
I'll try to stay concise since this recipe is another really simple one to prepare. 30 minutes and you're done.
That's one thing we've really enjoyed about all our Grubby meals. Quick and simple with minimal fuss … and no compromise on taste.
This burger and chips recipe follows that theme to a tee!
A bit of prep, chuck the chips in the oven, shallow fry the burgers and plate up. Simplicity itself.
(get 50% off your first box here)
Once again, the family devoured this delectable deliciousness. The lime juice dressed slaw complements the subtle savouriness of the burger … topped off with a slice of avocado and followed with a homemade chip or two.
Yum … yum … yum!
I even allowed myself a pale ale to accompany tonight's winning flavours. Vegan, of course.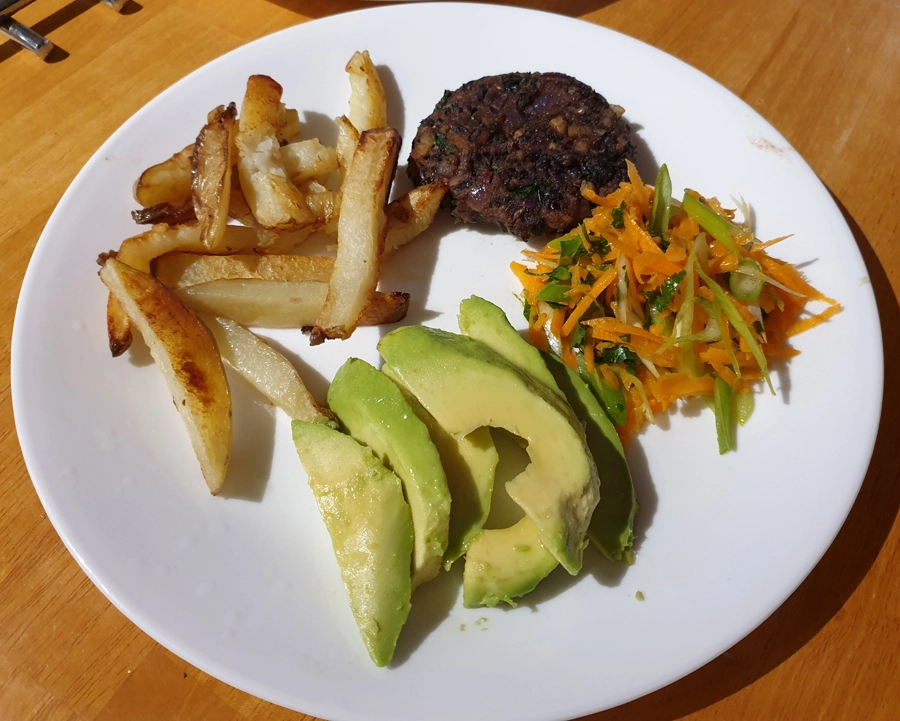 Who said vegan food is boring?
The ratings!
Taste: 8/10
Freshness: 9/10
Healthy: 10/10
Difficulty: pretty easy (7/10)
Eco-friendly: 9/10
Value for money: 8/10
Dropped a point on the taste as we did season a bit more than the recipe suggested. Slightly more fiddly than the other recipes so a 7 there but still not difficult at all.
We're looking forward to the next meal and will probably leave the review there as it's turning into a small novel 🙂
Recipe #89: Falafel & Aubergine Shakshuka
Finishing up these reviews with our 6th Grubby vegan meal, this North African/Middle Eastern dish is delightful.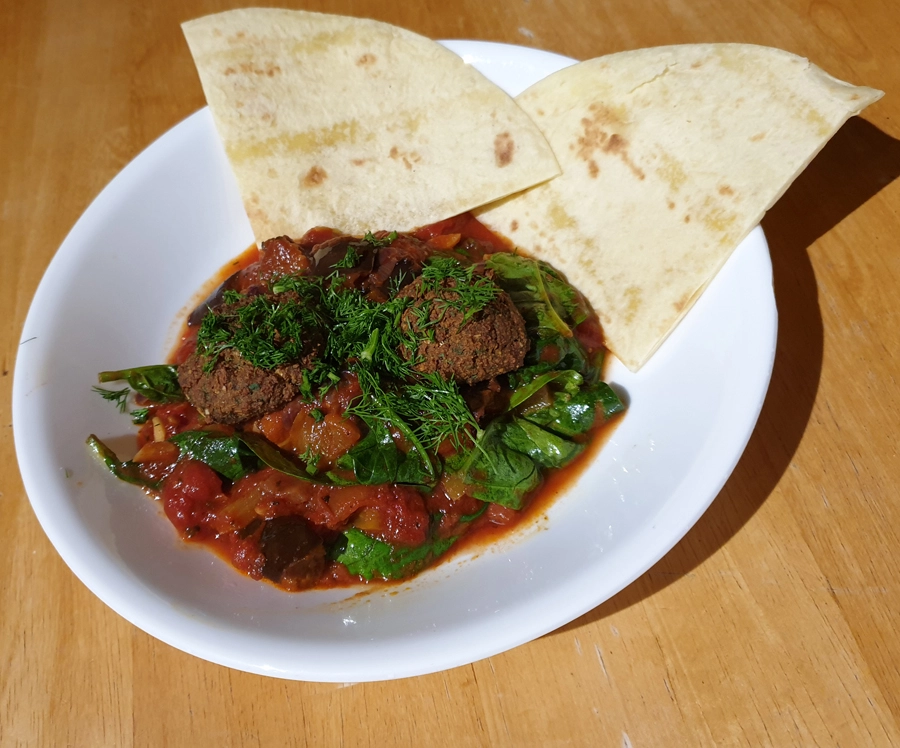 We've been seriously impressed with the quality and taste of all our Grubby vegan recipes so far and the Shakshuka is no exception.
My wonderful wife cooked this one up for the family and as the recipe card suggested, it was no longer than 30 minutes to prepare. She said it was very easy to follow.
(get 50% off your first box here)
The only slight anomaly was that instead of the pickled dill leaves, we were supplied with a sprig of fresh dill – maybe they had run out of the pickled variety!
It was still a tasty garnish anyway.
The smokey, tangy tomato sauce contrasts the delicate sweetness of the falafel perfectly. Mopped up with the flatbread, we were in food heaven once more!
We could have almost been sitting in a Tunisian cafe, if we'd closed our eyes and ignored the pitter-patter of rain drops against our window 🙂
Without further ado, the ratings …
Taste: 8/10
Freshness: 9/10
Healthy: 10/10
Difficulty: pretty easy (7/10)
Eco-friendly: 9/10
Value for money: 7/10
Again, can't really fault this delicious offering from Grubby. I dropped a point on the value for money because the servings were a little smaller than expected but we were still suitably satiated.
Looking For a Sound Vegan Investment?
Grubby have just successfully raised over 100% of their target £1.5m on Crowdcube. They're going from strength to strength! Why not invest in a worthwhile enterprise?
An exciting plant-based company which launched in 2019, Grubby has grown their customer base to over 35 thousand, with revenue growth of 18% month on month!
Plant based is only going one way at the moment as people become more and more concerned with environmental issues and animal welfare.
I think Grubby have pitched their offering very cleverly and they're still accepting investors, when I last checked.
Here's 50% Off Your First Box
This great offer could be withdrawn at any time so now is a perfect opportunity to try Grubby's delicious vegan meal kits.
Using this link, you'll get a whopping 50% off your first box and 30% off your first month!
Here at Vegan Slate, we happily recommend Grubby all day long 🙂
Thank you for reading and let us know what you think in the comments below … Maybe you've tried Grubby? If your friends might be interested in this review, please share using the social buttons … it keeps me in lentils 🙂
Have a compassionate day,
Rohan.
---
This review was originally published on September 30th, 2022 at 17:06 and updated with fresh content and images on May 24th, 2023 at 05:17.
---